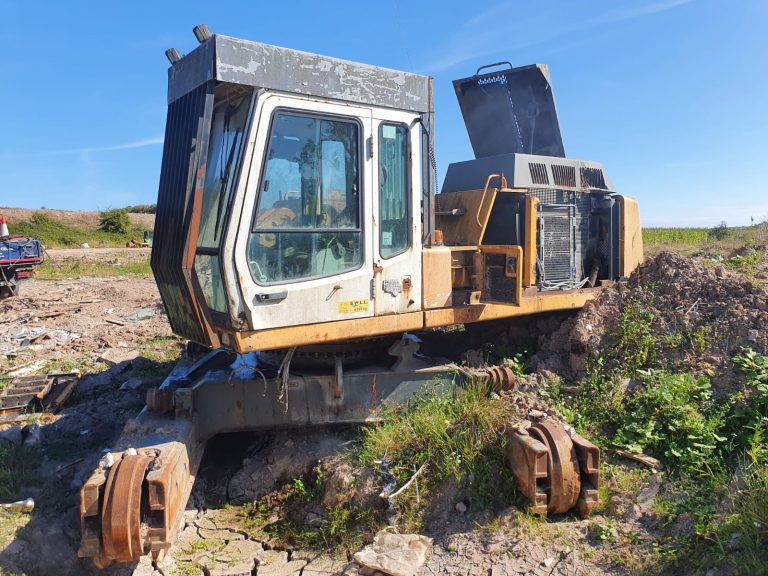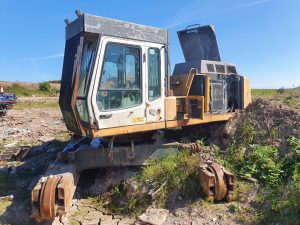 The majority of construction equipment machinery dismantlers are well established companies. Most are in existence for ten years or more with very many being second and sometimes third generation businesses. There are many reasons for this but the main one is that it takes a long time to build up enough stock of dismantled machines for example excavator spare parts.  You need sufficient turnover on parts to sustain a viable business. 
Many of these companies evolved from contractors or machinery dealers into dismantlers and some still continue to do both or all three. Contractors who have several of a particular machine model, such as Volvo A40E's or Cat 740's will often have one that is in worse condition than the rest. They may have one that has been crashed or maybe even fire damaged. Insurance will not always cover the cost of repairs or the owner may not want to run the risk of increased insurance premiums after a claim. 
Therefore taking parts off the worst truck as and when they are needed over time for the other ADT's makes perfect sense. Other owners may become aware that they are dismantling that machine and ask to buy some parts for their own fleet. Over years companies can build up a stock of dismantled machines and the parts sales to other owners can outgrow that amount of parts the contractor uses themselves. 
Likewise new or used equipment suppliers will often trade in older damaged machines like excavators that are only suitable for excavator spare parts and as they already have many customers who could potentially be looking for these parts they decided to break them. Many main dealers around the world from Cat, Volvo, Komatsu, JCB, John-Deere and Hitachi dismantle machines for used parts. 
Once the decision has been made to dismantle a machine it is rarely reversed. There are hundreds of individual parts on any one machine. Some parts will be common to many models and can be easily sold like Engines, Hydraulic Pumps, Tyres, Attachments. Other parts are slower to sell, as they rarely fail and if they do they can be sometimes repaired instead or replaced, like body's, booms, counterweights. 
Some dismantlers will break down the machine completely at the start to pack and label each part for storage. This is labour intensive and also requires a lot of suitable storage space and inventory management. Many dismantlers decide to leave the machine as complete as possible and remove parts as they are sold. This option is the most common as money is not wasted removing and storing parts that may never sell or could require years of storage. The complete machine will take up much less space than one that is dismantled into many parts. 
When do you get the scrap men in?
At some stage the dismantler is faced with the decision whether to bring in the scrap metal dealers and cut up parts and have them recycled back into raw metal. This can be a difficult decision to make. As the machine gets broken down and the most in demand parts are sold, the remaining parts are less likely to sell. They are often the heavy parts like dump truck bodies, excavator booms, wheel loader counterweights or maybe even bulldozer side frames.
The decision can sometimes be made easier when the price of scrap metal is high. At €250 ($280) to €300 ($340) per ton many dealers will use the high price as an opportunity to clear out the yard of the bigger less valuable parts (relative to their size and weight). Normally at this stage the dealer has already sold enough high quality parts off the machine to cover the costs and are in profit.  Therefore the scrap metal value can be seen as a bonus. It can be a nice cash injection into the business at what might normally be a quiet time of the year.
This will also give the dealer more space to fit other machines. Inevitably there will be some parts that after being cut up, someone will contact them looking to buy it. Although frustrating when this happens the bigger picture of a clean yard and new money to buy another machine is usually self-evident. When scrap prices are low at €100 ($115) to €150 ($170) per ton most dealers will hold off scrapping unless it is necessary.
When in the business of dismantling excavators for excavator spare parts or other construction or agricultural equipment, it is a constant battle to try and keep the yard clean and tidy. They will never be like a Ferrari showroom but by getting in the scrap metal men on a regular basis it is possible to maintain a safe and orderly work environment.